Petaluma Market's Catering Menu
Petaluma Market offers the finest selection for your large special event, intimate family gathering, or anything in between. We have 20 years of expertise in catering and special event planning. We have the knowledge and resources to provide just the classic touch to make your event unforgettable.
Our in-house chef is available for consultation to satisfy any catering needs or wants. If there is anything not on our menu, we can usually accomodate most requests.
Phone: (707) 762-5464
Fax: (707) 763-3760
phillipsupnet@petalumamarket.com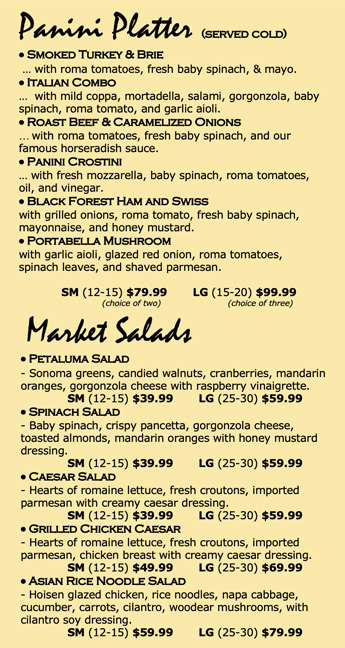 210 Western Ave, Petaluma, CA 94952 - PH. (707) 762-5464 - FAX (707) 763-3760
Open 7AM - 9PM Daily
Hot Foods for Apr 21st
• Teriyaki Chicken
• BBQ Baby Back Ribs
• Roasted Prime Rib w/Au Jus
• Pasta Carbonara
• Fresh Vegetables Medley
• Creamy Herbed Polenta
• Chicken Marsala
• Macaroni And Cheese
• Sausage/Onions/Peppers
• Spinach Ravioli/Mushroom
Soups for Apr 21st
• Potato Leek
• Beef Noodle
• Split Pea & Ham GF
• Turkey Chipotle Chili