About the Market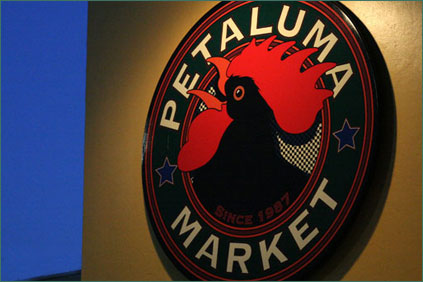 Petaluma Market was purchased in 1987 by James and Maureen Agius. In the years since, Petaluma Market has made an effort to put equal emphasis on providing customers with quality gourmet food while maintaining a strong foothold in Petaluma's community (where James was born and raised).

Petaluma Market features full-service meat, deli, and catering departments as well as fine cheese, beer/wine/liquor, and produce departments. Special attention is paid to local companies and farmers when selecting products. Petaluma Market prides itself in unique product selection and customer service.

Keeping local business strong is important to any community and Petaluma Market is proud to be a part of the small business collective that exists Sonoma County.
210 Western Ave, Petaluma, CA 94952 - PH. (707) 762-5464 - FAX (707) 763-3760
Open 7AM - 9PM Daily
Hot Foods for Apr 21st
• Teriyaki Chicken
• BBQ Baby Back Ribs
• Roasted Prime Rib w/Au Jus
• Pasta Carbonara
• Fresh Vegetables Medley
• Creamy Herbed Polenta
• Chicken Marsala
• Macaroni And Cheese
• Sausage/Onions/Peppers
• Spinach Ravioli/Mushroom
Soups for Apr 21st
• Potato Leek
• Beef Noodle
• Split Pea & Ham GF
• Turkey Chipotle Chili