Beer, Wine, & Spirits at the Market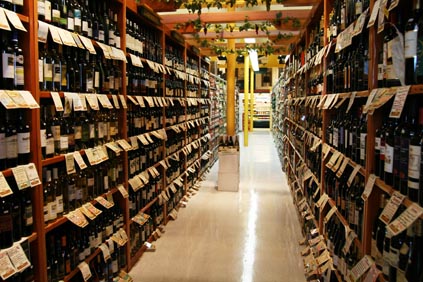 When it comes to finding the right wine for a special dish, let Petaluma Market be your guide.

A great wine can make anything and everything taste better. We offer customers a wide selection of domestic, imported and sparkling wines to fit almost any budget. More than 1,500 wines are in stock at any one time, including Northwest, California and international wines from Europe and South America.

If malted beverages are more to your taste, check out our selection of more than 300 beers. Kept cool for optimum flavor and freshness. A wide selection of premium brews and microbrewed beers are available, including those from the Pacific Northwest. Not in stock? We know where to get it.

We also carry a selection of champagnes, sherrys, and non-alcoholic champagnes.

We build our wine department around the customer. We will always do our best to fill any request.
210 Western Ave, Petaluma, CA 94952 - PH. (707) 762-5464 - FAX (707) 763-3760
Open 7AM - 9PM Daily
Hot Foods for Apr 21st
• Teriyaki Chicken
• BBQ Baby Back Ribs
• Roasted Prime Rib w/Au Jus
• Pasta Carbonara
• Fresh Vegetables Medley
• Creamy Herbed Polenta
• Chicken Marsala
• Macaroni And Cheese
• Sausage/Onions/Peppers
• Spinach Ravioli/Mushroom
Soups for Apr 21st
• Potato Leek
• Beef Noodle
• Split Pea & Ham GF
• Turkey Chipotle Chili