The Finest Cheese in Town!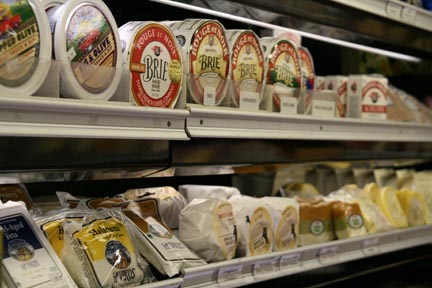 At Petaluma Market we proudly feature an array of cheeses, hand-selected to meet the diverse culinary needs of our customers.

We seek out the best: From the finest cheeses of Sonoma County, to carefully-crafted, artisan gems of California and beyond.

In addition to all-American favorites and the classic imports from France, Italy & Spain, and Holland, we offer many delicious, lesser-known varieties. Our selection evolves seasonally with new additions every week. We invite you to come by any time for a taste of something wonderful.

Cheese is an easy way to add a delectable & distinctive touch to entertaining. We take great pleasure in helping you to select the right cheese to perfect your favorite recipe, celebrate any occasion, or compliment a special bottle of wine. Our assortment of gourmet crackers and accompaniments will help you to create a beautifully composed cheese course.
210 Western Ave, Petaluma, CA 94952 - PH. (707) 762-5464 - FAX (707) 763-3760
Open 7AM - 9PM Daily
Hot Foods for Apr 21st
• Teriyaki Chicken
• BBQ Baby Back Ribs
• Roasted Prime Rib w/Au Jus
• Pasta Carbonara
• Fresh Vegetables Medley
• Creamy Herbed Polenta
• Chicken Marsala
• Macaroni And Cheese
• Sausage/Onions/Peppers
• Spinach Ravioli/Mushroom
Soups for Apr 21st
• Potato Leek
• Beef Noodle
• Split Pea & Ham GF
• Turkey Chipotle Chili